Bitten News
Bitten Banter: Vol. 5 - Girl Talk
Tuesday, May 12, 2015 - 09:00
Up until now, Bitten Banter has been decidedly male-dominated, what with Malcolm interviewing Jeremy, Jeremy interviewing Malcolm and Nick & Logan interviewing each other. This week, a couple of Bitten ladies get to spend a little time on the couch.
It's all the more a treat as the ladies in question actually get to spend very little screen time together in the world of Bitten. Kiara Glasco, who plays Savannah, has spent most of the season in one part of Aleister's Happy House of Horrors, whilst Genelle Williams, who plays Rachel, has been in another part entirely, the area where they inject stuff into you and force you to watch experimental films.
Now, the worlds collide as Kiara and Genelle discuss such girly things as werewolf babies (and werewolf baby names), sharp needles and imprisonment. Get in on it below.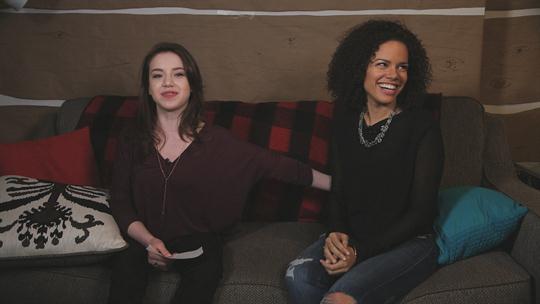 Oh yes, there will be more Bitten Banter next week. Stay tuned!