31 Days of Halloween News
The Final Ghost Hunters Episode: 5 Things You Should Know
Wednesday, October 26, 2016 - 07:00
The Ghost Hunters - Final Episode Airs Wednesday, October 26 at 9/8c

For 11 Seasons, TAPS has braved ghosts, peculiar clients and crazy locations (there have been lots and lots and lots of asylum ghost hunts, gang), so it's hard to narrow down our favorite investigations to just five - but we'll try. Here it goes…

1. Season 1, Episode 1 "Altoona Tantrum"


In the very first episode of the series, original TAPS members Jason Hawes and Grant Wilson investigated a family house in Altoona, Pa. The pair investigated a poltergeist who was throwing around a little girl's toys. Is that you Carole Anne ?
Why we loved this ghost hunt:
You never forget your first. Plus, the team picked up a pretty eerie voice recording that said, "Can I come in?" um, no!
2.  Season 6, Episode 1 "Alcatraz Live"
For their 100th episode, the team celebrated by doing an overnight investigation of Alcatraz Island. Oh and did we mentioned that they did the hunt live on the air? On a scale of 1 to 10, it was pretty epic.
Why we loved this ghost hunt:
The team gathered lots of evidence and confirmed that the joint is haunted. But the most memorable moment was when team member, Kris, came face to face with a dark shadow that put her - and us! - out of sorts. 
3. Season 6, Episode 18 "It's Time to Get Touched
"
Dave and Steve left the team for a while to go train other ghost hunters in their own show called
Ghost Hunters Academy
but then they came back in this episode. The crew went to Ohio and investigated the home of author James Thurber. Steve got annoyed when he thought Dave kept tapping him on his shoulder. But it wasn't Dave - it was a ghost!  
Why we loved this ghost hunt:
We're a sucker for a reunion. And also, whoever named this episode deserves a raise.
4. Season 5, Episode 23 "Mark Twain House"
The team investigated Mark Twain's house (it's in the title, duh) which now operates as a museum. Tourists often report seeing the Twains hanging around their old crib.
Why we loved this ghost hunt:
We always liked it when TAPS investigated fancy places like this. Plus, Susy, Mark Twain's daughter, made an appearance in her old bedroom. Ghost Hunters Kris and Amy heard footsteps and other noises coming from the long-dead girl's EMPTY bedroom. Spooky!
5. Season 11, Episode 13 "Manor of Mystery"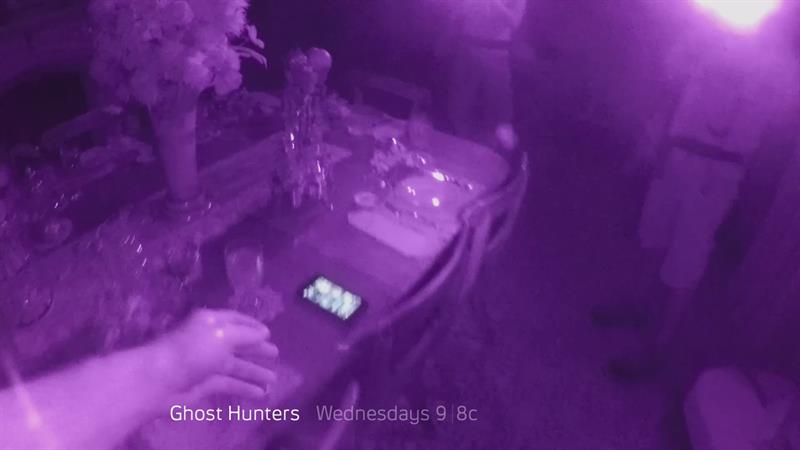 On their final hunt, the Ghost Hunters will be joined by actors Rachel Nichols (Continuum) and Jonathan Sadowski (Young and Hungry) to investigate a haunted museum. We already know what happened but we can't tell you so get a sneak peek here and then tune in tonight at 9/8c!
Why we love this this ghost hunt:
You never forget your last. Farewell,
Ghost Hunters
. Thanks for making America less afraid of ghosts again.