'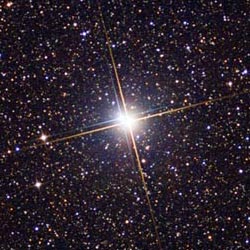 I'm sometimes asked what my favorite object in the sky is. I have lots, actually, but when I'm out with my telescope under the night sky, I have a secret favorite I always take a look at when it's up. It's not some distant galaxy or a bright nebula as you might expect. It's actually just a star.
Well, it's really two stars, which is one of the reasons I like it. The star's name is Albireo, and it's the head of the swan constellation of Cygnus, visible from the northern hemisphere in the summer through early winter. To the unaided eye it looks like one star, but that's an illusion due to its vast distance of about 400 light years (4000 trillion kilometers). The two stars blur together, like distant car headlights on a highway.
Double stars are generally more interesting to observe than single stars, since it's relatively rare to be able to see two bright stars through an eyepiece at the same time. You usually see lots of faint stars, so when two are bright and close together, it's more visually appealing.
But Albireo outshines the rest because of the colors of the two components. Everyone seems to see different hues from them (which is also part of the appeal), but to me the brighter of the two is a warm, soft, orange, and the fainter a sharp, cold, sapphire blue. Others see the brighter star as red, or yellow. It depends on how your eye perceives contrasting colors, as well as the seeing conditions.
But no matter what, they make a lovely pair, a delight to the eye. It's one of my favorites to show people at observatory public nights. They always gasp when they see it.
Photographically, it's difficult to capture the stars well because they are so much brighter than their surrounding starfield, and the contrasting colors make it hard to get the color balanced on one star without washing out the other. But astrophotographer Stefan Seip made a glorious image of Albireo (the image at the top of this entry is but a small portion of the much larger image). He has an amazing talent for shooting the stars; his images are fantastic. Check out his website and click around his images. They are truly beautiful.'
Make Your Inbox Important