It's been a while (grumble grumble book was a huge timesink grumble) but it's finally time for another BA Giveaway! This is the best one yet.
My friend and BABloggee Jack Hagerty is an author, but not just any author: he is a geek among geeks. He has a fantastic book called Spaceship Handbook that is an astonishing compendium of spaceships both real and imagined. This textbook-sized tome has details to satisfy even the nerdliest among us. Section upon section of George Pal! Chesley Bonestell! Movies you've never heard of but had awesome rockets!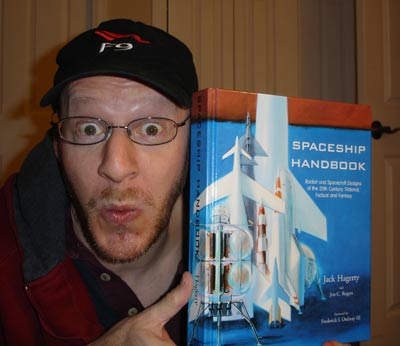 If you read this blog -- and you do -- then you want this book. And now you can have one. Jack has graciously agreed to send the winner a copy of the book, and if you don't win, he's still showing the love by giving 15% off cover price if you order it. The holidays are coming, folks...
The rules are the same as before. All you need to do is go to the Bad Astronomy and Universe Today bulletin board. I've created a thread in the Fun-n-Games section called "Spaceship Handbook giveaway contest!" If you're already a registered user, just post something in that thread, like "I'm a geek and I want this book!" It doesn't matter what you post as long as you post. Post ONLY ONCE. If you post more than once I will delete the extra posts.
If you are not already registered at the board, it's easy and free. We don't charge anything, and we don't do anything with your emails or info. I hate spammers more than you do, guaranteed (I get thousands of spams a day-- and not just email but also comments on this blog and on the BAUT board!), so I swear that info stays in our database and that's it.
On Monday, December 3rd at noon Mountain time I will close the thread. I'll generate a random number, and whoever has that number post wins the book! I'll send you a private message or email confirmation, and you can send me your snail mail address, which I will forward to Jack. There will be no cost to you at all.
This book has a section on the rocket used in the Josie and the Pussycats cartoon. You so want this.
Make Your Inbox Important