I'm a fretter. I can't help it.
I had this newsletter over at Yahoo!Groups, and I really hated using Yahoo!Groups. The administration was a nightmare, the format was not very good, and I had little real control over things. Even so, I had nearly 5000 subscribers, making it the second biggest astronomy group on Yahoo.
But now, with the blog, things are so much better. I can update things more easily-- most of you may have noticed I now put up two or three entries a day. That's fun! I can put in images: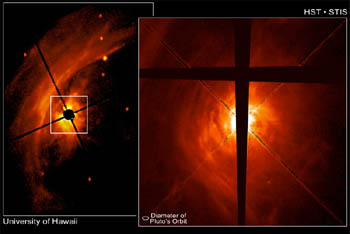 and even make them links (go ahead, try it!). I can categorize things (this is under "About the blog", for example), and apply lots of other time-wasting devices.
So I posted a last newsletter on Yahoo, and told people to come here. But of the 5000 subscribers, only about 300 came over.
So I fretted. What did I do wrong? Was the timing off? Were people tired of the newsletter, or was it so infrequent most simply didn't care anymore?
Then a solution presented itself. Grab the email database of the readers, and migrate it to FeedBlitz, the service I use to let people get the daily updates to the blog in their email.
So I did it. It's doing it right now! I have no idea how many people will subscribe, how many will ignore it, how many will love it, how many will send hate mail. That worries me a bit.
I can't help it. I'm a fretter. But I'm hoping for the best.
So if you're coming here from the newsletter for the first time, welcome! Take a poke through the archives to get a feel for how things work. And you can leave comments as well (though I ask that you be polite)!
This is so much better than the newsletter. :-)
Make Your Inbox Important