'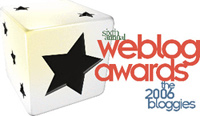 Don't ever let anyone tell you shameless self-shilling doesn't work.
The Bad Astronomy Blog is a finalist for a 2006 Weblog Award, aka a Bloggie (sorta the Oscar for blogs). This is no doubt in no small part due to said shameless shilling. So why not, I'll shill again: vote for my blog!
Voting closes on January 31, so head over there! There is no science category (I'll blog about that later) but due to my loyal if somewhat easily-swayed readers I am in the "Best Topical Weblog" category. This is wonderful, despite the fact that I'm up against Cute Overload and Treehugger, which is grossly unfair, given that they are also up for blog of the year.
The Best Topical Weblog category is about 2/3 of the way down the page. If you vote, then make sure you vote in at least three categories. That's part of the rules.
The winner will be picked the week of March 13, which figures, as I'll be running around doing real astronomy stuff just then. Given my competition, I don't realistically expect to win, but it's an honor just to be nominated. :D'
Make Your Inbox Important