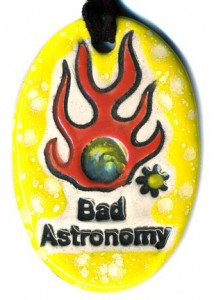 As I wrote about recently, I have teamed up with Skepchick Surly Amy to raise money for the American Cancer Society: she has created 200 lovely hand-made ceramic Bad Astronomy pendant necklaces, and for each one she sells for $20 she's donating $10 to the ACS. Each one is different, so check them all out!
Over half the necklaces have been sold, but there are still quite a few left. Hurry and buy one (or more) soon; the total raised will be announced at the star party at Dragon*Con this year, September 2!
Find out more at Amy's Skepchick post, which has more pictures, including one cute one of how one necklace is keeping a couple together, despite their reading material.
Make Your Inbox Important