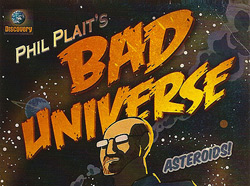 I've just learned that all three episodes of my TV show, "Phil Plait's Bad Universe", will air in the UK on DiscoveryUK from August 15th through the 17th. The air times vary, so check the link to find out when it's playing.
Sky TV has clips online to give you a taste of the three episodes: Asteroid Apocalypse , Alien Attack, and Death Stars. If you sense a theme, well, read the title of the show again.
Hope you like 'em!
And by the way, the DVD set is available on the Discovery Channel store and at other online venues like Amazon.
Related posts:
- Mashup of DEATH
- I think the Moon watched Bad Universe

Make Your Inbox Important