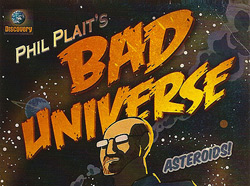 Just to let y'all know, we have a winner for the Bad Universe Twitter Giveaway: Ken Moore! He gets the book, the rocks, the meteorite, and all the other fun BU stuff. I sent the package of goodies to him just this morning, in fact.
Getting the winner was tough! There were 2230 retweets in all, and using Twitter's search feature only allows going back 1500. I posted a plea on Twitter, and got a suggestion that led to me dividing up the retweets into three, one for each day of the contest (August 25, 26, and 27). That way I could simply count backwards from the latest one, and find the winner. Turns out, though, I didn't need to: the random number turned out to be 289, so I only had to go back a little bit. Ken's retweet was the one, and he responded to my DM, so he got the prize.
As for those of you who missed out, be consoled: a) the show itself is so terrific it'll make up for it -- OK, lame, but there's also... 2) I'll do another giveaway when the second episode airs. I already have some fun swag set aside for it.
So watch the show! It airs Sunday night at 10:00 p.m. Eastern time on the Discovery Channel.
Make Your Inbox Important