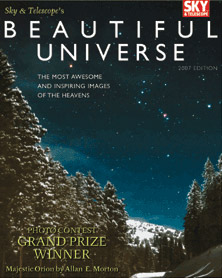 I am giving away a copy of the softbound book Beautiful Universe, a wonderfully, um, beautiful book featuring nearly 100 pages of gorgeous pictures of the heavens. It was sent to me by the good folks at Sky and Telescope magazine because I am a contributing feature writer. It's a great book (see more about it here), but my bookshelf is overflowing with astronomy books, so I figure why not give a BABloggee a chance to own it?
So here's your chance. All you need to do is go to the Bad Astronomy and Universe Today bulletin board. I've created a thread in the Fun-n-Games section called "Beautiful Universe giveaway contest!" If you're already a registered user, just post something in that thread, like "I wanna win the book!" It doesn't matter what you post as long as you post. Post ONLY ONCE. If you post more than once I will delete the extra posts.
If you are not already registered at the board, it's easy and free. We don't charge anything, and we don't do anything with your emails or info. I hate spammers more than you do, guaranteed (I get thousands of spams a day-- and not just email but also comments on this blog and on the BAUT board!), so I swear that info stays in our database and that's it.
On Thursday, February 8th at noon Pacific time I will close the thread. I'll generate a random number, and whoever has that number post wins the book! I'll send you a private message or email confirmation, and you can send me your snail mail address. The book will wing its way to you the next day. There will be no cost to you at all (the cover price of the book is US$9.99).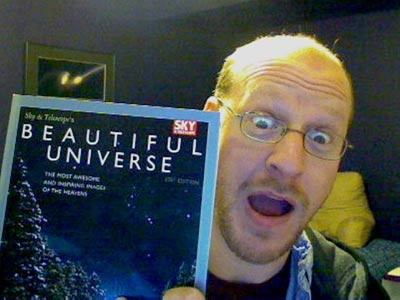 Oh-- speaking of BAUT, don't forget about "Q & BA". I'll be making my video answer this weekend, so get those questions to me!
Make Your Inbox Important