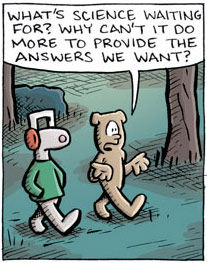 I like a lot of web comics, but it's sometimes hard to find good ones. I was recently twigged on to Calamities of Nature, which commonly has themes dealing with science and critical thinking. I particularly like this one, excerpted in the picture here. The last panel is awesome.
In the character guide, the artist describes the mole (the white guy with earmuffs) as a cynic, but I don't think so. A cynic is in many ways a pessimist, but a skeptic can see the good in things while still asking for evidence of claims. I think Aaron is a skeptic.
Tip o' the virtual ink to Carl Spackler.
Make Your Inbox Important