Carolyn Porco, for those readers who been hiding under a rock for like the past five years, is the imaging team leader for the Cassini Saturn probe. Those incredible images returned from the mission? Yeah, she's in charge of that.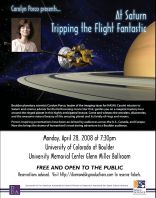 She is also a fantastic speaker. I've had the pleasure of hearing her give talks twice, and both times she was riveting, presenting incredible images from Saturn and waxing poetic on what we have learned.
If you life in the Denver/Boulder area, then run, do not walk, to reserve your seats for her presentation At Saturn: Tripping the Flight Fantastic on the University of Colorado campus on April 28th at 7:30 p.m. I'll be there, too.
After her presentation at SpaceFest last year, Buzz Aldrin said she should be "Secretary General of the United Nations of the Solar System". Come to her lecture and see why.
Make Your Inbox Important