... are a million to one, he said.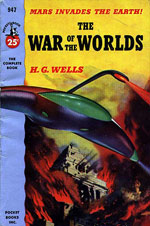 OK, if you got that quotation, then you know I'm a big fan of War of the Worlds, the original 1950s movie and the book by H. G. Wells. In fact, I would say the first page of that book should be remembered as one of the finest examples of the use of the English language in literature. It's magnificent.
I also read the scifi blog io9, and they link to a very cool collection of pictures showing different covers for the book over the ages. They're a hoot, especially the one with, for some reason, our favorite starship on it. Weird.
io9 does stuff like this every now and again, and if you're a geek like me, you should be reading it.
Make Your Inbox Important