OOoooo, a BA exclusive! Sorta.
BABloggee Dan McKinley sent news that he was walking along NYC's Lower East Side and was alarmed to see vast damage to the street... until he saw union guys tossing around the obviously fake "boulders":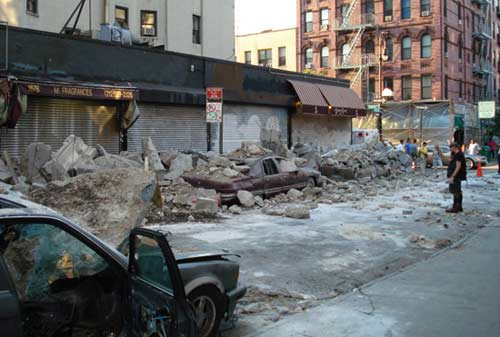 Could these be location shoots for the much-blogged "Cloverfield" movie? I'm not sure. It seems possible, though it also seems to be pretty late to still be filming principal photography. However, that does happen sometimes when a scene shot earlier doesn't work out once editing begins. A friend of mine who works on TV shows told me that sometimes they will reshoot a scene on Monday for a show that airs Thursday! I had no clue they could turn around something that quickly.
So who knows? Either way, this is pretty cool -- and if it's not Cloverfield, then we get yet another disaster movie I might be able to gripe about. Hooray!
Make Your Inbox Important