When I was at the World Science Fiction convention a couple of months ago I had a lot of fun. I got to meet a lot of very cool people, and I was so busy it was hard to find time to blog about it (though I did here and here).
One thing I didn't mention is that I did a book signing. This made me feel a little weird, as my book is getting a little old (it came out in 2001) and in SF circles I'm not well known. But what the heck, it gave me a chance to sit with some stars who were there to do their signing. I didn't interact much with most of them (Trek celebs Suzie Plakson and Marina Sirtis were busy and on a tight schedule, for example). But as I sat there, who walks up but an actor I have really liked for a long time: Robert Picardo!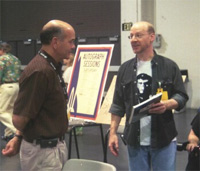 No doubt most BABloggees think of him as the Emergency Medical Hologram from Star Trek: Voyager, but in my heart of hearts he will always be The Cowboy from Inner Space, a most excellent SF comedy. That character was hysterical. So I walked up to him with my Star Trek Concordance (a history of the Trek Universe, a geeky but cool thing for Trekstars to sign) and told him how Mrs. BA and I thought he was terrific as The Cowboy. He laughed, and poo-pooed my book. Instead, he pulls out an 8x10 black-and-white of him as -- yes! -- The Cowboy, signs it and hands it to me.
That was very cool of him. The stars come to these conventions and sell their wares (pictures, posters, whatever) for $20-$25 a shot, and some of them clean up doing so. Many of them are, um, very strict about such things, and won't even sign a book unless you pay them. I can understand that, sorta, since collectors can turn around and sell the autographs on eBay.
So like I said, Mr. Picardo was really cool to give me a picture of his. I have it sitting in the pages of the Concordance (next to a picture Chase Masterson gave me of her-- and that's another story, but yowza, and she's a real sweetie too, and worth her own blog entry here sometime).
In the end, no matter where I am or what I do, I'll always be a fanboy. I love meeting the celebrities like science fiction actors, and of course the people who create it, too. I'm already looking forward to next year and the next DragonCon!
Tip of the spacesuit helmet to Jack Hagerty for the picture!
Make Your Inbox Important