Contributed by
Mar 26, 2019, 9:34 AM EDT (Updated)
[The Desktop Project is my way of forcing myself to clean off my computer's desktop by systematically writing a blog post for every cool picture I've been collecting and neglecting. I've been posting them every day for two weeks now. And there's more to come!]
Regular readers know I'm fascinated by clouds. The shapes they take on and the processes that form them are really interesting, especially when more unusual and rare conditions produce spectacularly odd clouds.
You've probably never heard of "cloud streets", technically called horizontal convective rolls. I hadn't either until recently, but they are amazingly cool-looking, especially when seen from space. Proof: check out this shot from March 2012 of cloud streets over Greenland taken by NASA's Aqua satellite: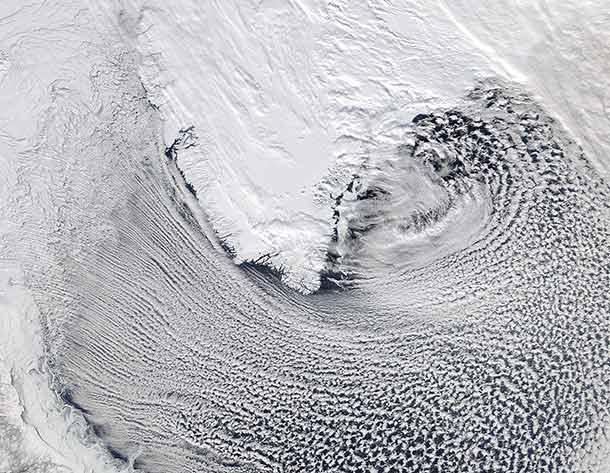 [Click to ennebulenate, or grab an even higher-res version.]
Isn't that incredible? The formation mechanism for these clouds isn't well understood, but it involves gently rising warm, moist air getting blown to the side by a shear wind. This starts up a rotation in the clouds and stretches them out into these fantastically long parallel strips. Each row you see is spinning along the long axis, and each one is spinning in the opposite direction of the one next to it (this diagram may help).
To give you a sense of scale, this image is over 2000 km (1200 miles) across! So these clouds can stretch a long, long way.
You probably see clouds every day, or certainly quite often. Yet there's a lot we don't know about them, and certainly many kinds I bet you've never even heard of. What else is there you might be missing that's sitting in plain sight?
Image credit: Jeff Schmaltz/MODIS Land Rapid Response Team, NASA GSFC
Related Posts:
- The cloudy impact of Sikhote Alin
- The fist of an angry cloud
- The odds of successfully surviving an attack on an Imperial Star Destroyer are approximately…
- White laced boot