<?xml encoding="utf-8" ??>
NASA just posted this lovely picture of the Space Shuttle Discovery sitting on its pad, awaiting the command to light her engines and take her final flight into space.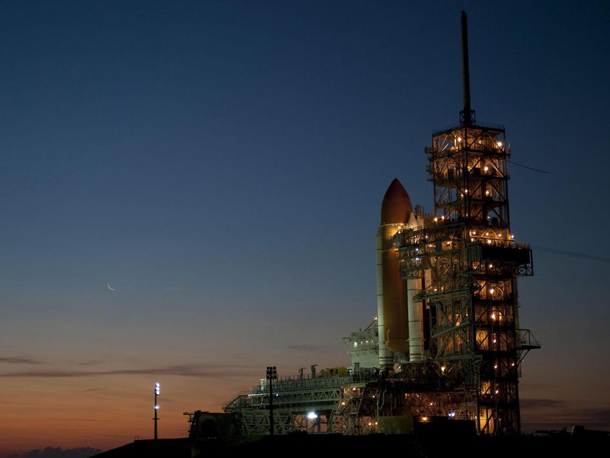 [Click to embiggen.]
The picture was taken a couple of weeks ago; note the thin crescent Moon on the left.
In fact, the sight of the Moon and the Orbiter together makes me a little sad. The Shuttles can't get Americans back there, and barring this and one more flight of Endeavour later this year, it'll be a while before we can put humans into space at all. But I still think that we can once again make our presence known in space. And next time, I hope it's to stay.
Discovery is due to launch tomorrow, Thursday, at 16:50 Eastern time.
Image Credit: NASA/Kim Shiflett
Related posts:
- Fanning the flames of the near future
- Ten years of the International Space Station
- Challenger astronauts memorialized on the Moon
- Congress passes NASA authorization bill but I'd rather watch sausages being made

Make Your Inbox Important