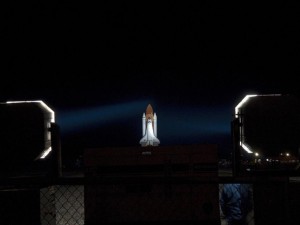 The final scheduled launch of the Space Shuttle Endeavour has been moved from April 19 to April 29. The earlier date would have interfered with a Russian Progress vehicle that is scheduled to send supplies to the International Space Station on the 29th. I know, that sounds funny, but a 2-week long Shuttle mission means it would have been docked to the ISS during the Progress mission, so it's better to launch the Shuttle once Progress is already up there.
The date isn't set in stone yet, so those of you planning a vacation around the launch should stay tuned. But I'll be honest: with delays and all that, actually planning travel around a Shuttle launch is pretty risky, as is obvious from this 10-day rescheduling. But if you happen to be in Florida for the launch, terrific! It truly is an amazing thing to watch.
I'll have more news on the launch here as I find it.
Related posts:
- Endeavour's final walk down the aisle
- Amazing Shuttle launch video from an airplane window
- Touchdown
- Discovery's last moment in the Sun

Make Your Inbox Important