Fleet Week is held every year in October in San Francisco. It's a fantastically beefed-up air show, with an amazing array of aircraft displaying their abilities. I saw a bit of it from the air last year as I flew out of Oakland airport, and even from 3 kilometers up it was very cool to watch.
A couple of years ago, I was trying to interview scientists at a meeting in SF when a Navy Hornet flew by a few hundred meters away. It was very, very loud.
Still, that must have been a lover's whisper compared to what these guys heard: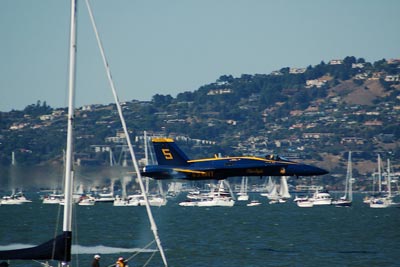 Not to be inelegant here, but holy crap!
That is one of an incredible series of high-res pictures Bernard Zee took of the Blue Angels and other planes during Fleet Week this year. Seriously, check them out (especially this one, where you can see all sorts of interesting optical effects as the air is compressed supersonically under the plane). They are incredibly cool.
Tip o' the flight helmet to Fark.
Make Your Inbox Important