He is not a man who embraces fame, and so while his name may not immediately ring a bell, you've almost certainly come across an Alan Moore comic book in your life. His oeuvre includes From Hell, The League of Extraordinary Gentlemen, Batman: The Killing Joke, V for Vendetta, and Watchmen, and that's just a tiny selection of Moore's vast body of work.
Moore is one of the best-known and most critically acclaimed comic writers of all time, often credited with spearheading – along with the likes of Frank Miller – the medium's shift toward more mature themes in the 1980s. But unlike many of those writers, he's done everything possible to avoid the spotlight, even when notoriety offered great rewards, as in the case of movie adaptations of his work. His antipathy toward those films has been well documented: Moore forwent the millions of dollars he could have earned from the V for Vendetta and Watchmen films in return for having his name stricken from them.
"The films have got nothing to do with my books, and the books themselves were actually written to show off what the comics medium can do that films can't," he explained to the BBC in a 2012 interview.
The full extent of Alan Moore's self-imposed exile from the movie and comics establishment cannot be appreciated without an understanding of his relationship with Northampton, England. Northampton, a town located roughly between London and Birmingham, is not one of the UK's glamour spots. As such, none are more surprised than the locals – of which I am one – that this cultural icon still chooses to live here.
Moore was born in Northampton on November 18, 1953. He first discovered American comics as a child, being sold on a stall at the town's local market. "I can remember that there was one place that used to specialize in these very bright, full-color DC and Marvel superhero comics," he recalled in conversation with comedian Stewart Lee on BBC Radio 4.
He noted in the same interview that he "realized the limitations of the superhero genre from an early age." The lapses in logic he observed in those early comics became a source of fascination to Moore, which he would ultimately channel in his later superhero writing.
Some of Alan Moore's earliest paid work in comics came in 1979, when he began writing and drawing a regular comic strip called "Maxwell the Magic Cat" for the Northants Post, a now-defunct local newspaper.
But even as his reputation grew beyond Northampton — and indeed internationally — Moore remained for the most part in his hometown. Such was the size of Moore's audience in his most prolific periods, during the 1980s and 1990s, opportunities for explicit references to Northampton were limited. However, it still clearly played a massive role in the way he perceived the world. "I'd rather learn about one place in depth than to have a wide knowledge of the world," Moore said in the 1993 film Don't Let Me Die in Black and White. "I think that if I can learn about Northampton, I'll probably understand something about every community."
Understandably, then, he's been unable to resist the setting since cutting ties with DC Comics in 1989 and committing to more esoteric projects. Indeed, among the first of Moore's post-DC projects was Big Numbers, an ambitious comic serial about how an English town called Hampton – a thinly veiled stand-in for Northampton – is affected when an American mall opens its doors locally. The comic was ultimately never finished, though it seems more relevant now than ever.
Not long after this, Moore began to write his first non-graphic novel, Voice of the Fire. Extremely ambitious, the book consists of 12 separate stories – spanning 6,000 years, from 4,000 BC to the mid-1990s – all tied together by the fact that each occurs in what we now call Northampton. "I had people who were saying, 'Yes, but you could say this about any town,'" Moore said in 2000. "Which is, actually, rather the point. If you can look beneath the surface, beneath the flagstones of Northampton, and find something magical, something wonderful, then yes: Of course that means that wherever you are, you could do the same excavation. You could find the meaning of the place in which you will probably be spending a great deal of your life."
That excavation has served Moore well, and he plumbed Northampton's depths once again when making his debut in another new medium: film. Recorded between 2011 and 2014, Show Pieces was a series of five interlocked short films written by Moore and set in Northampton. The pick of the bunch is Jimmy's End, named after the nickname for the St. James' area of the town, which begins with a drunken man confusedly stumbling into an unfamiliar working men's club. Thing get very unsettling very quickly, as it becomes clear that it is a bizarre, inescapable arena of the damned.
When the man protests that "this isn't where I'm meant to be," the quietly sinister club proprietor replies: "You might very well be right. But this is where you are, do you see what I'm saying? It's what you gravitate towards." There's a particularly Moore-ish flourish to this statement, and it seems to echo what the writer has said previously about his own uncontrollable connection to Northampton. This becomes even more poignant when one considers that this club is a kind of afterlife, and that what the man is gravitating towards is ultimately death.
"My ambition is to die in Northampton," Moore has said. "I've never really traveled a lot. I think it's possibly because I think the world moves fast enough anyway; that if you just stand still … we very seldom go to bed in the same place that we woke up."
Jimmy's End sees Northampton flipped to a kind of shadow version of itself called "Nighthampton," described as "where a town goes when it dies," and one imagines that maybe Moore finds this idea comforting. He and Northampton, together in life and in death.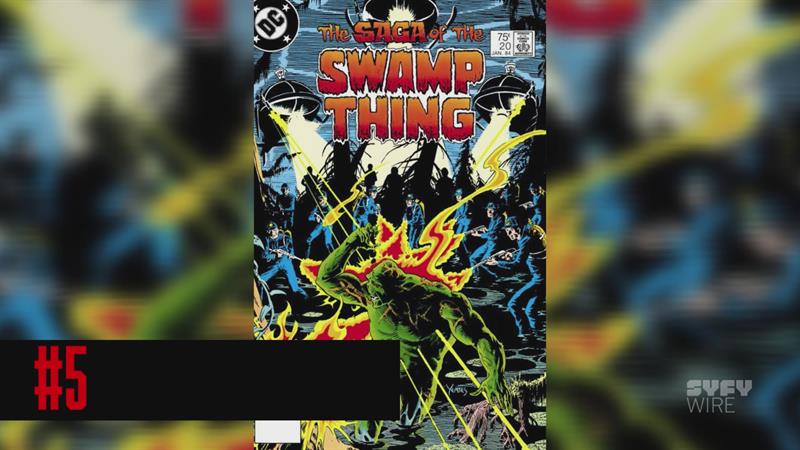 Make Your Inbox Important