Sure, you've seen the Virgin Mary in an oil slick (or at least some part of her), Jesus in the Eagle Nebula, an
angry monkey angel in a cloud, and maybe even
Lenin
in a shower curtain. But these don't really look all that much like what they're supposed to (except for Lenin).
Now we have Elvis. And he rocks. Literally.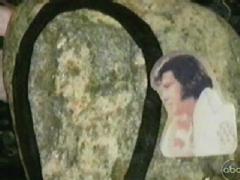 Ohhhhhh, baby. That makes me wanna peanut butter 'n' nana sammich.
Oh yeah.
Note: this marks the obvious need for the "pareidolia" category. So be it. I'll add in older posts.
Tip o' the sequined 45-degree-angle glasses to Fark.
Make Your Inbox Important