Contributed by
Feb 26, 2020, 3:48 PM EST (Updated)
The fact that we know more about what's out there in our solar system than at the bottom of Earth's oceans is equal parts unbelievable and enticing, offering tantalizing possibilities for discoveries without the need for any kind of space travel. Those endless possibilities were key to the conception of James Wan's fantastical approach to Aquaman, the DCEU's next great hope, which stars Jason Momoa and hits theaters in December. SYFY WIRE got an early peek at what that all looks like on screen together when Wan invited us into his Aquaman editing bay on the Warner Bros. lot in Burbank recently to preview a few in-development scenes.
"The idea that there could be this massive civilization of beings, and another sort of race of people, is super exciting for me," said Wan.
While surrounded by concept art exposing the vast wonders of the myriad possibilities of the Seven Seas and Seven Kingdoms, Wan kicked things off by showing off July's Comic-Con sizzle, with more of the post effects filled in. The reel served up a lurid sense of Wan's wild and varied influences on the film, giving it the feel of something unique and familiar at the same time, and certainly unique for the DCEU.
"Even though it's a superhero character, my approach to it really wasn't as a superhero film. I really wanted more of a fantasy approach to it," Wan explained. "I pulled influences from just stuff that's inspired me and influenced me since I was a little kid — I went all the way from classic Ray Harryhausen to the more traditional Spielberg earlier stuff.
"I've mentioned a bit about my love for Romancing the Stone as well, the way the characters interact," continued the ever-loquacious director/writer. "The film really has a lot of flavors to it, and really using the mythology of Aquaman and the world of Aquaman to sort of pull it all together."
Wan — a man thoroughly imbued with horror cred thanks to his Conjuring, Insidious, and Saw franchises — then showed off a little of his comics cred too, sharing a litany of influences, from Geoff Johns to Ivan Reis to the legendary Nick Cardy.
"I'm a big fan of the Super H comic book of Aquaman," said Wan. "I love Nick Cardy's stuff. I love the first series,  the stuff that eventually sort of inspired Super Friends and the Aquaman TV series. I love that!" Wan said, excited by his childhood memories. "And so I thought that I'm not going to shy away from it, I want to embrace that and do my own version of that. I just love that sort of retro quality that the original comic book had, and all those really fun characters, and [I wanted to] find ways to fit them into the movie, which is, basically, a retelling of a character that has somewhat become a joke over the years."
So the question became "How do I kind of make him, you know, kind of cooler and more relevant for today's world?"
**Spoiler Warning: There are spoilers for Aquaman below**
Wan quickly moved us along to show off the opening prologue of the film, where Arthur's mom, Queen Atlanna (Nicole Kidman), and dad, Thomas Curry (Temuera Morrison), meet, fall in love, and give us sweet Aquababy.
"There's the love story between Arthur and Mera [Amber Heard], but the love story between Mom and Dad is just as important," said Wan. "Mom and Dad's love story to me is the emotional backbone for the lead character and what drives him for the rest of the movie."
We see Amnesty Bay, with lighthouse keeper Tom watching TV and reading The Dunwich Horror by H.P. Lovecraft as a dark and stormy night crashes outside. And who should wash ashore but Atlanna, trident in hand, in need of some serious resuscitating. It gets wet and steamy, and family bonding goes down, and soon Arthur, more than a king, arrives on the scene — living proof that Tom and Queen Atlanna's people can coexist.
We learn that the Queen was escaping an arranged marriage, leaving her world at the bottom of the sea behind. Atlanna also tells Arthur that a new trident-wielding king will come and put "Atlantis back together again."
Which is a right lovely story indeed, but that peaceful scene is soon disrupted by sci-fi-looking knights of King Orvax, ordering Atlanna to return to Atlantis. Luckily she has a trident and knows how to wield it, making short work of those Atlantean thugs. But she knows deep down that she must return, for Arthur's safety, so she tearfully bids adieu to her lovely little family to return to her family below, Down Under in Atlantis.
Wan tells us that he's playing into what audiences think they already know about the lost city of Atlantis, an advanced yet archaic society. "I took all of that mythology and played with it," said Wan. "They still have a sort of monarch system that they're very true to. They have a very rigid way of looking at things… playing up the whole sort of monarch queen and king aspect of it and basically amping that up to its tenth degree."
But the underwater world needs more than a king, it needs a hero.
"It's really about Arthur going through a hero's journey, seeing all the different culture and appreciating all the different people that are there, that he never appreciated before," said Wan, noting that his hero's journey picks up after Justice League. "If he's going to be eventually the king of all these different people, he needs to know his subjects, and he needs to really understand who these people are."
And so Wan wanted to show us the full depth of Atlantis, which is presently very much the realm of King Orm (Patrick Wilson), Son of Orvax and Atlanna, half brother of Arthur. "King Orm is sick and tired of our s**t, he finally wants to deal with that," said Wan. "But our hero, Arthur, has to go back there and try and stop his brother. He's technically the correct heir to the throne, so the only way he can go stop his brother would be to go back and try and reclaim his throne. King Orm's not going to give it up so easily."
Of course, Arthur has to prove himself in the ancient way. So we get another, far grander fight sequence, which fully shows off the Atlanteans in their element: water. There is sick trident action all up, down, and around a submerged Rome-on-steroids colosseum built around an active volcano, replete with cheering Atlanteans and sea creatures that Ray Harryhausen working with Toho might have dreamed up.
In Wan's underwater world, the water gives the Atlanteans superpowers. "For them, they're way more powerful when they're actually underwater," said Wan. "They're supercharged in a lot of ways."
Which sounds great, but making it look great is complicated, involving a ton of moving parts, including rigs that actors and stunt crew can sit and move in, since these beings can propel themselves with the flick of a muscle. "Like sharks, like dolphins… the tiniest little bit of muscle movement, they just rocket through the water."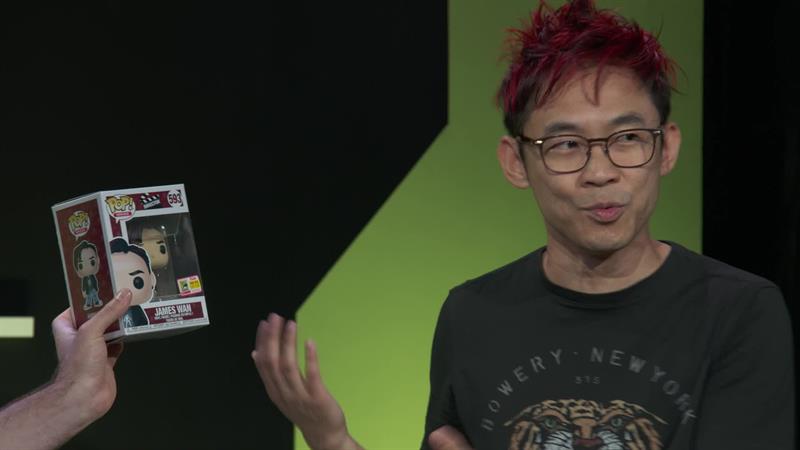 The film also shows off the diversity of Atlantis, with creatures that look like normal humans, and mer-people, and crab people, and the monsters of the "The Trench." But while that epic nature might daunt some filmmakers, it's a big reason why Wan signed on. "My imagination is my limitation, so I can run really wild with my designs and my ideas. I've been wanting to make a design movie for the longest part. I've never had the money to back me up," said Wan, laughing.
Money also buys big stars, and Wan quickly realized he had one of those in Jason Momoa. So the director tried to pull that big personality out of his actor and put it up there on the big screen. "One of the coolest things about meeting Jason in person was just seeing how funny and cool he is, and how charming and likable he is in person," said Wan. "I wanted to get more of that person that he is in real life into the movie."
Which we get a good sense of in the third previewed scene, with Mera (daughter of Dolph Lundgren's King Nereus) and Arthur early on in their quest, jumping out of an airplane into a desert wasteland in search of a lost tribe of Atlantis. There's definitely a Romancing the Stone vibe, as they bicker like Jack Colton and Joan Wilder (and maybe even a bit like Marion and Indy) while finding a secret entrance/portal to the underground world. "And a little bit of Goonies," joked Wan. "Amblin is another sort of bad reference."
It's clear there's a lot going on in this film, with swashbuckling action and adventure aplenty. But worry not, Wan hasn't forgotten about his dark side. "The story and the world really lends itself to lots of different flavors," said Wan. "I always say that the ocean is a really magical place, full of wonder and magic, but it can also be very scary as well. So this movie really lets me lean into both concepts."
We'll soon get to taste all the flavors when Aquaman takes the plunge into theaters on Dec. 21.
Make Your Inbox Important