My friend Glenn Schneider is an astronomer, and also a little bit nuts. He's an umbraphile, an eclipse-chaser. But he's not just any guy who travels the world to watch solar eclipses, he gets neck-deep into them. He actually chartered a plane and organized an incredible trip to see the total solar eclipse a few weeks ago -- I wrote about this as he was planning it.
Glenn sent me a note to say that the trip was a complete success! They had more than nine minutes of totality to watch -- that's literally more than is ever possible on the ground, because a plane can "chase the shadow", counteracting the rotation of the Earth. He has some details and some great pictures on his site. Check this out: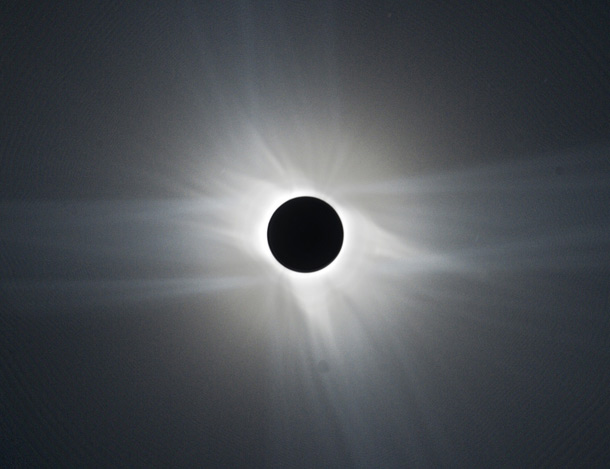 The blue streamers above and below the Sun (and the dark spot below the Sun) are not real, but artifacts produced by the plane window and the camera. Still, that's incredible. Sigh. I swear, one of these days I'll go with him. I've still never seen a total solar eclipse. Some day...
Make Your Inbox Important