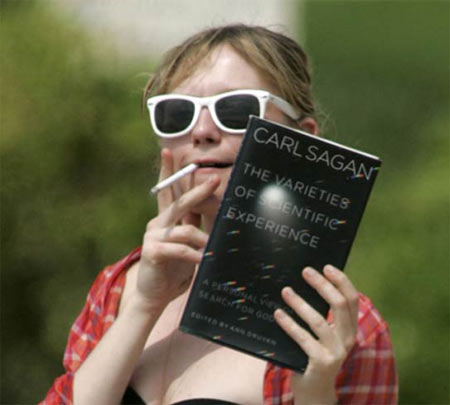 Yes, that really is actress Kirsten Dunst, and yes, she really is reading Carl Sagan's book, The Varieties of Scientific Experience.
I'm not sure precisely why I'm posting this, except that
1) I am reading that same book right now (I finally picked it up; it's the only Sagan book I have not yet read),
2) I think it's funny for some reason (not to imply Ms. Dunst is a stereotypically dumb actress; in fact I think it's terrific she's reading it),
3) It's also funny that she's smoking while reading it -- it's jarring and odd, though I'm not sure why -- and there are other pix of her at the link above where she has, um, other things to say (or gesture),
3) I love link bait.
I am not a huge fan of hers, though she was pretty good in the second Spiderman movie. But I do like Sagan's writing quite a bit. So I'm glad it's getting some coverage.
Make Your Inbox Important