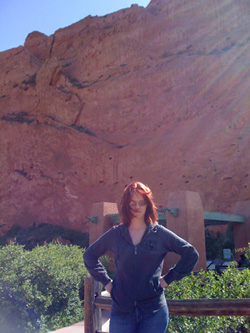 I've written about Marian Call before: the fiery-haired songstress who croons her cleverly-written songs about Battlestar Galactica, Firefly, and being a geek.
Marian is currently on a tour of all 50 states, and on July 3rd and 4th she'll be right here in Boulder! On the 3rd she's performing at the Trident coffeeshop (940 Pearl Street) from 8:00 - 11:00 p.m. If you live in the area, and you're a geek -- face it, you are -- then you should come. She's set up a Facebook page to get an idea of how many people will attend. The next day -- July 4 -- she'll be at the Folsom St. Coffee Shop (1795 Folsom St) at 5:00pm. Both concerts are free, but you should chip in a few bucks if you go to support her!
After Boulder, she's heading down Colorado Springs (check her schedule at the link above), so if you're in Boulder you should see her while you can.
You can get samples of her music on her page; her music is quirky and fun and personal (here's a review from a newcomer to her music, a woman who heard Marian for the first time recently on this tour). To give you a better sense of what she's about, check out this fan-made video featuring her music and scenes from Firefly. It's really good:
I've already made my reservation at Trident. The venue is intimate, so better hurry up and get counted! I hope to see lots of other BABloggees there.
Related posts:
- Clarion Marian Call
- The (Marian) Call of Mars
- In the black
Make Your Inbox Important