<?xml encoding="utf-8" ??>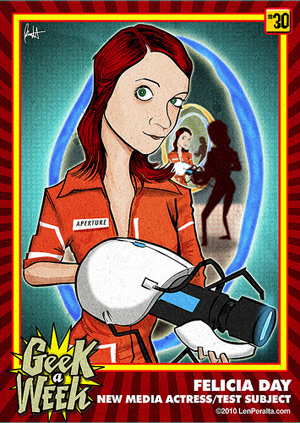 Just a reminder, are you keeping up with Len Peralta's Geek A Week podcast? Since I last mentioned it he's interviewed Felicia Day, Bill Prady (co-executive producer of The Big Bang Theory), Penn & Teller, and Neil Gaiman! These are lots of fun to listen to, and I urge any nerds like me out there to sign on. Len is also a gifted artist and draws trading cards of all the geeks -- the one here is of Felicia, of course. They're really fun to look through. Collect 'em all!
I happen to know it was Len's birthday last week, too. Happy Birthday Len!
Related posts:
- Geek A Week 18: me!
- Geek A Week starts its second half
- Two weeks, two geeks: MythBusters edition
- Grant me a geek