Hey, if you're in the Washington DC area until mid-December, make a special effort to go to the National Air and Space Museum. It's a rockin' cool place in its own right, but for the next couple of weeks it'll be extra-special: WFPC2 and COSTAR -- two of the instruments from the Hubble Space Telescope that were removed in the last servicing mission -- will be on display there!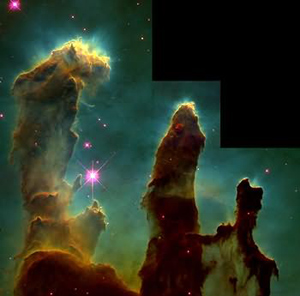 An older camera, the Faint Object Spectrograph, has been at the NASM for a few years now, and now these two will join it. The Wide Field Planetary Camera 2 was put on board in 1994, and was the first camera to internally correct for Hubble's out-of-focus mirror. It revolutionized the way the public sees astronomy, having been used to create such iconic images as The Pillars of Creation, seen here.
The Corrective Optics Space Telescope Axial Replacement was a gizmo that had a bunch of mirrors on it that sent refocused light to the other cameras onboard. Ever since, all cameras placed on Hubble have corrected the focus internally, so COSTAR is no longer needed. That's why it was removed, to make room for the Cosmic Origins Spectrograph.
WFPC2 and COSTAR will be at the museum until mid-December, than shipped to California to be displayed there. It's expected they'll come back to NASM in March 2010.
I never used WFPC2 for any published work, but right after launch it was used to look at Supernova 1987A, an object I studied for my PhD. I had made some predictions based on our earlier, fuzzier images, and WFPC2 confirmed several of them. I fiddled with some of the data from it after that as well, too, so I do feel some connection to the camera.
I don't know if I'll get to DC before it moves out, but I may get to SoCal. I'd love a chance to see in person the camera that changed so much about astronomy, and made it something everyone could share.
Make Your Inbox Important