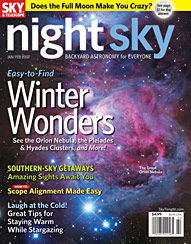 Sigh.
I've known this for a long time, but somehow I never posted about it. Night Sky magazine, the daughter publication of Sky and Telescope, is closing its doors.
I wrote for Night Skyin every issue since the first one in May/June 2004. My column was called "Straight Talk", and I wrote about astronomy misconceptions as well as basic facts and things I thought were cool. Kelly Beatty was my editor. He invited me to write for the magazine back in October of 2003, and I accepted eagerly and gratefully (my exact response was "Wow, that sounds great!"). I love Sky and Tel, and I was excited to write for a mag geared specifically to beginners at amateur astronomy.
Unfortunately, the business model set up for the magazine didn't work out, and even though it was high quality -- I actually read every issue, cover to cover -- it couldn't make it. So it's gone.
I'll still write the occasional feature for Sky and Tel of course. That's too much fun not to do! I'm angling to write for other magazines, and I have some other writing projects in the works as well.
So I'm sad to see it go, but I know there will be other outlets for astronomical creativity too. And there will always be astronomers, amateurs and pro, who want to get started and learn more about what truly is the most beautiful science.
Tip 'o the dew shield to Dave P's Astronomy for the reminder.
Make Your Inbox Important