This is a bummer: Penn's radio show is off the air.
I hope it wasn't something I said.
It's really too bad. I only just started listening to the show relatively recently, actually last year when I was visiting DC and caught it on the radio. I was delighted to hear Penn ranting about some skeptical topic, and heaven knows (har har) we need more skeptical voices on radio. Name three more if you can (Paul Harris is too easy, so name two more).
I'll be grabbing the podcasts of the show and listening when I can. Adam Savage was the last aired guest, so that's cool. It'll be fun to hear him. The very last show is actually pretty funny, and about 3/4 of the way through I get a shout-out (well, they talk about Joe Rogan too). How cool is that?
Of course, you can still catch Penn on his TV shows, or his frequent guest appearances on other TV shows (that one has his unbelievably cute daughter Moxie on it). The poor guy is so busy he has to drop his radio show, so it's not like you won't be seeing him anymore.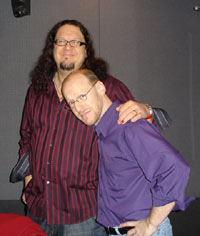 Make Your Inbox Important