Have you ever wanted to ask a famous science-type guy a question that's been eating away at your brain for years?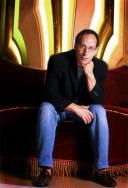 Now's your chance! Renowned scientist, author, and media go-to-guy Lawrence Krauss has agreed to participate in a Question and Answer session on the Bad Astronomy Universe Today bulletin board. Dr. Krauss studies such esoterica as multiple dimensions, dark matter, and, um, Star Trek.
If you have a question, it's pretty simple: go to the BAUT board, register, and post your question in that thread (note: I will not forward comments from this blog; please go to the board if you have a question). Later this week we'll send the best ones to Dr. Krauss for him to answer, so hurry! When we get his responses, we'll post his answers for all to see on the board.
Make Your Inbox Important