Some random interviews I've done lately, and a little link love.

Those weirdos at the Skeptics Guide to the Universe interviewed me at TAM5. I may have flirted with Rebecca a little bit (actually just sitting next to her makes my heart beat a wee bit faster, so I don't need to work much) but she did profess her love for me. My interview starts about 42 minutes in; if we all sound funny it's because we were recording just outside the main auditorium so we didn't want to disrupt the meeting. Adam Savage and Tory Belleci from Mythbusters are on after me.

I did my "Brains on Vacation" bit for "Are We Alone", this time about wishing on a star. You can get it in MP3 or WMA.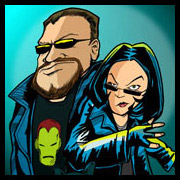 Derek and Swoopy at Skepticality, having embarrassed me last time by asking Julia Sweeney if she knew of my undying crush on her (Julia knows that very well, D&S, as I would have been happy to tell you, and as anyone will tell you, to know her is to love her), go on to talk about me some more at TAM5 (here is a direct link to the MP3). Actually, it's only for a moment, and it's 51 minutes in. So you might want to listen to the podcast because they talk to my buds Adam Savage and Ben Radford from Skeptical Inquirer. They're probably more interesting.

I was interviewed on the Conscious Particles podcast, a topically eclectic show. We chatted over a lot of different things, including UFOs, asteroids, and the usual nonsense.

And I must give props to the Seed magazine Zeitgeist meister, who has the excellent taste to frequently link to me. Back atcha, Herr Meister.
Phew! I think that's it for now. But then I'm doing two podcast interview in the next week, and one for an online magazine too. I'll link to those as they come out, too.
Good thing I already have an enormous ego, or else all this might otherwise give me one.
Make Your Inbox Important