I was on travel yesterday and didn't get a chance to link to the Saturday Morning Breakfast Cereal web comic, leading to approximately a metric ton of emails and notes on Twitter telling me about it. I know, the sample I have extracted below doesn't give you a hint why people would be telling me about this particular strip, but click it to get the whole picture.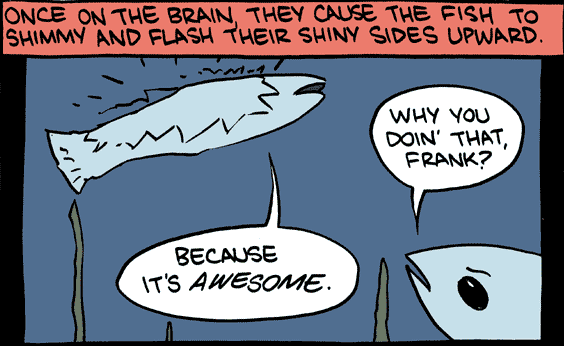 OK, spoilers below the fold! Don't read until you've looked at the comic!
Yes, that's me, and yes, that's Neil Tyson. Normally, I'd be concerned (if not outright repulsed) by being involved in the life cycle of a parasitic organism, but since (SMBC artist) Zach's wife, Kelly, studies those things, I have to face the fact that he does this out of love. Also, the cercariae in Zach's brain make him create comics that he knows will get put into my blog, so who's the parasite and who's the host now, huh?
[NB: Zach is now selling his SMBC book. You may also recognize his fashion model at the bottom of that page. Time to update my resumé!]
Related posts:
- Save Yourself, Mammal!
- Zach Weiner, destroyer of homophobes
- SMBC gets it right, as usual
- Comic Con 2: SMBC and me
- SMBC gets the finger

Make Your Inbox Important