[UPDATE: We have a winner! BABloggee Brendan Leber sent the 150th email, and that was the number chosen at random out of the 481 received. Congrats to Brendan, and thanks to everyone else who tried. And as always, more contests are coming, so stay tuned.]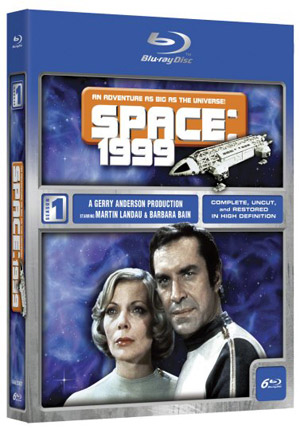 I know, I just gave away the Doctor Who Blu-Rays, but c'mon! Who doesn't want more classic science fiction?
A&E Home Entertainment just came out with the first season of Space:1999 on Blu-Ray, and have agreed to give one away to a reader of my blog! This new box set looks pretty cool, I must say. If you're a fan of the show then you want this (I am, and I do!). It costs about $100 retail (suggested), but here's how you can score one for free.
Eagle 1, ready for liftoff:
0) This contest is free. Also, in case of error or such, I reserve the right to change the rules slightly as needed. IMPORTANT: The promotional company told me they can only ship to the continental US, so that means the 48 contiguous states (and DC). I apologize for this, but that's the condition I was given. So no Hawaii or Alaska, and no other countries.
1) This contest is right here in this blog. Registering to win is a bit different than usual: you need to send an email to webmaster "at" discovermagazine.com. We get a lot of email to that address, so please use this exact subject line, "BA Space:1999 Blu-Ray Contest". It doesn't matter what's in the body of the email, but if you have a Twitter account, include your handle so it's easier to contact you.
2) Only send one email, please. Violators will be fed to Tony Cellini's monster (or worse, forced to drink Tony Verdeschi's beer)*.
3) You have to use a valid return email address in the email, because that's how I will contact you if you win. In other words, if the email to you bounces, I'll wait 24 hours (as per rule 5 below) and then move on to the next potential winner.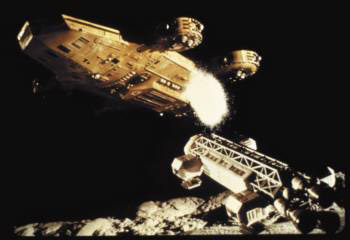 4) The contest ends on Thursday, December 9, at 14:00 Mountain time (21:00 GMT).
5) At that time, the
Hive Overmind Discover Magazine masters will tell me how many emails we received, and I will generate a random number to pick the winner. I'll notify the winner via email (and/or Twitter), and they will have until Friday, December 10, 2010 at 14:00 MT to respond. If I don't get a response then that person no longer wins; I'll pick another random emailer as needed, who will have until Saturday at 14:00 MT to respond, and so on.
6) Once confirmed, the winner will send me their postal mailing address, and I will forward it to the company that will send them the Space:1999 Blu-Ray box set.
7) Again, continental US only! Also, as usual, please do not enter if you know me in real life. Otherwise I'll send you to the nuclear waste dumps to test for magnetic anomalies, and we all know how that ended up.
That's it! Moonbase Alpha out.
* For Tony Cellini joke: See "Dragon's Domain" Season 1. For Tony Verdeschi: See any episode of Season 2.
Make Your Inbox Important