Season 3 of USA's Colony may as well be set on another planet. While the first two seasons of the alien invasion drama were set (and filmed) in Los Angeles, the third season moves into the dense forests of Vancouver. On a visit to the set last October — SYFY is owned by the same parent company as USA, NBCUniversal — there was a very real concern that we would get lost in the forest. An hour-long trip up into the mountains meant there was no cell phone reception, and no earthly way to find your way back to humanity — at least not for me, a city girl.
The cast seemed to be very happy about the move to Vancouver. "I think it's a really smart move for the show," Sarah Wayne Callies, who plays the matriarch Katie Bowman and lives in British Columbia, said. "The first two weeks were exhausting, with us tromping around the woods. But I think it is very endemic to who we are. We fit this better than we fit L.A. We're shooting it for what it is. It's not like, we're moving to Vancouver but we're still shooting like we are in L.A."
Her on-screen husband, Josh Holloway, who plays Will Bowman, said it was a heavenly experience and made for great cinematic images, though he too felt the physical toll of the outdoor shoots.
After escaping the Los Angeles Bloc in Season 2, this season finds Bowmans are ready to start over in the forest with the Resistance group. And Will, Katie, and their children Grace (Isabella Crovetti-Cramp), Charlie (Jacob Buster), and Bram (Alex Neustaedter) are finally together.
"They're happy," Holloway explained. "They are together, they're safe. There's a time jump, so they've been six months together, living in the forest. They have experienced something we haven't seen them experience even for a second. That's very significant."
"One of the most interesting developments has been Bram," said Callies. "When we pick him up, I think he has been folded into the Will and Katie world much more. He's made a transition from being a boy, frustrated by his lack of participation, who got into some real trouble trying to get involved in the Resistance, to someone his parents do listen to and take seriously."
Neustaedter doesn't think Bram has shared much with his parents about what happened in his time apart from them. "They still don't know, and they're not going to see anything that Bram does until a little later in the season in terms of his physical abilities," he said.
Snyder, the shady former government official who joined up with the Holloways, has long been a comfortable thorn in the side of the Bowmans. Katie and Will may be on "the same page" as one another, but Snyder (Peter Jacobson) is one of those topics which they are not quite together on.
"I think Katie would happily leave him on the side of the road and tell him, 'Here's a granola bar, good luck,'" Callies said, laughing. Holloway is much more magnanimous about Snyder. "He's helped us in the past, here and there. He saved my son from the prison camp. He's done certain things that, to me, make him still valuable to keep around."
For Will, Snyder is an asset. Katie's take? "I just think he's an ass."
Jacobson loves his character's "special relationship" with the Bowmans. "They seem sort of bonded," he said of Snyder and Will. "Even in the first season, there was bickering between them, like husband and wife. That relationship continued on, for better or for worse, they're so tight."
But Jacobson notes that Snyder is still a mercenary, and out for himself, so just how much the Bowmans can trust him remains to be seen.
"Where is the point at which Snyder's heart takes precedence over his cunning?" Jacobson asked, rhetorically. "That really gets pushed in the third season. As we know, coming out of the second season, I am physically now with this family, but I'm still Snyder. That play has been really fun with the family members, and yet what they're doing is deepening that bond. There will be points when Snyder's true self will emerge again. I haven't even seen beyond the first bunch of episodes, but already I can tell that that push is going to be a very flavorful part of the season for me."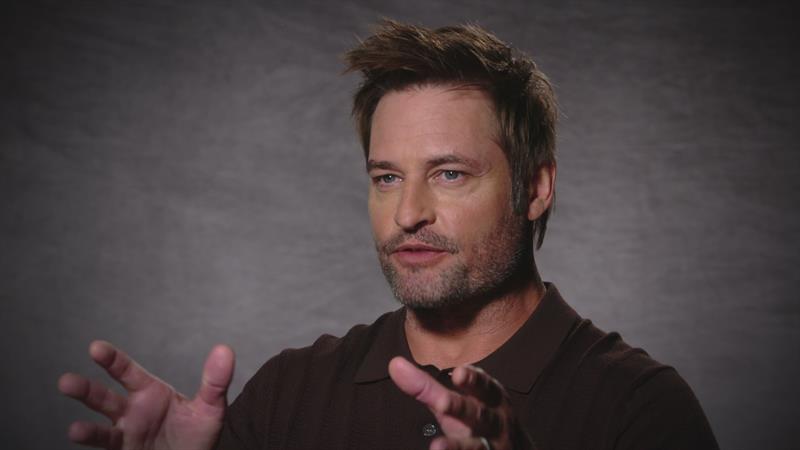 Speaking of, what can fans look forward to in Season 3? The scene we watched them film in October involves Katie and Will talking to a guy named Vincent about the de facto camp leader, McGregor, who "has eyes everywhere." Vincent thinks an attack is being planned; Will and Katie are just concerned that he will destroy "the clique." Callies describes McGregor as someone who "may or may not be completely unhinged and running his group into the ground."
Holloway suggests that right away, viewers will find out quite a bit about the different alien factions. "There's gonna be a cool moment, very soon. The science fiction broadens quite a bit, quickly." Callies hints that there will be a moment in which the Resistance arms one of the similarly-leaning alien factions, only to think, "Oh, wait a minute, that wasn't such a good idea." She does suggest the gauntlet and "whatever Rap they've captured" will "level the playing field."
Holloway thinks that one of the best tools for the Resistance will be Broussard's discovery that they can interface with the drones. "You don't even get to the Raps before you are obliterated by the drones. [It's about] step by step, figuring out tactically what to do. In Will's world, it's still not enough info, but we're making progress."
Listen to a brand new episode of SYFY WIRE's Colony: The Official Podcast every Wednesday night at 11PM EST.
Colony Season 3 premieres on May 2 on USA.