I have good news about podcaster, skeptic, musician, friend, and fellow bald guy George Hrab: his latest album, "Trebuchet", has finally hit the streets!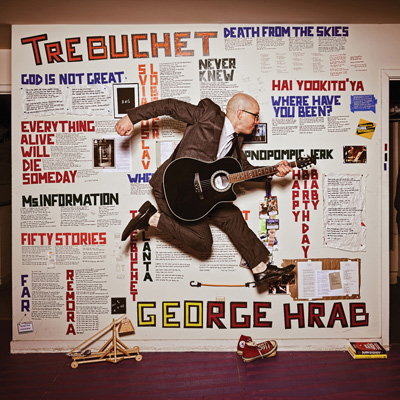 Yay! This collection of songs runs quite the range, from topics skeptical to sad to even, yes, cosmological annihilation. I refer you to the song listed in the upper right of the above picture, track number 11, entitled "Death from the Skies" (noting also the book displayed in the bottom right corner in said above picture). That song features music by Geo and a litany of astronomical destruction (and their odds of occurring) by me, your host. That was a lot of fun to do, and I'm proud and honored to be on an album made by my friend. The delightful Donna, aka Brickgrrl, aka MsInformation, has more info on the album, and the entire album can be downloaded on Geo's podcast feed. You can download it at iTunes, of course, but I suggest going to CDBaby, which also has the download but where you will soon be able to order the physical, actual CD, which you should, because a) it comes with liner notes which are epically cool, 2) one lucky customer will win a Golden Ticket providing them with a free house concert by Geo (!) and γ) it puts some money in Geo's pocket, which deserves it.
To give you an idea of just how clever this epidermically bepated man is, check out this time lapse video he made of how he created the album cover:
Geo's been making the rounds of the podcasts, too. For example, you can hear an interview with him on this week's Skepticality (with bonus interview of horror writer, equally balded, and friend-of-BA Scott Sigler).
Go ahead: buy the album, listen to the interviews, check out those links. It's spring, it's Friday, and it's not like you're gonna get any work done today anyway.
Make Your Inbox Important