Here's something you don't see every day.. or will ever again: two Space Shuttle Orbiters, nose to nose: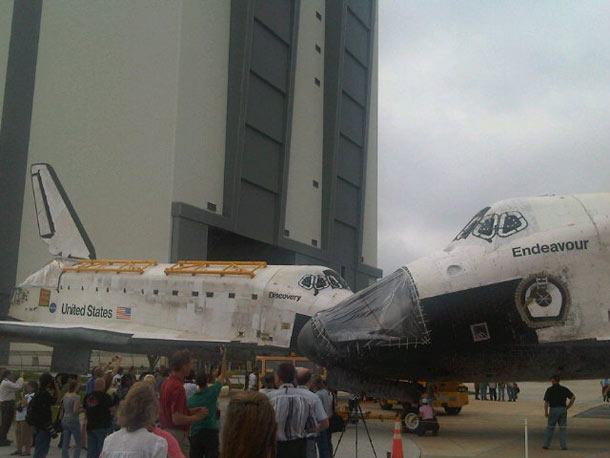 [Click to enspaceplanate.]
The two Orbiters, Discovery and Endeavour, are seen here outside the Vehicle Assembly Building at NASA's Kennedy Space Center. Both are being cleaned up and prepped to be shipped (or, more properly, flown) to museums; Discovery to the Smithsonian's Udvar-Hazy Center in Chantilly, Virginia, and Endeavour to the California Science Center in Los Angeles.
[UPDATE: Here's a shot of the two Orbiters seen from the air!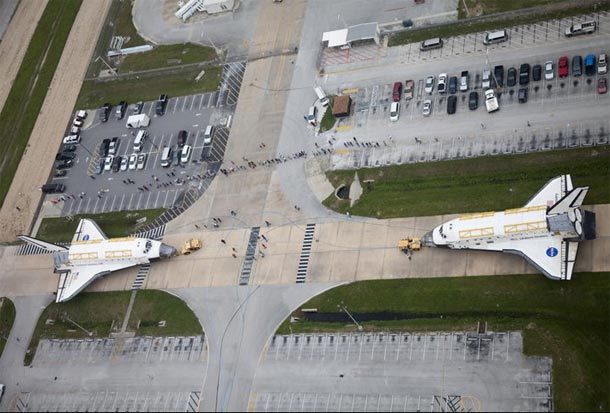 Very, very cool.]
I expect at some point I'll pay these ladies a visit. Discovery and I have a connection -- it took a camera I worked on up to Hubble back in 1997 -- and it'll be interesting, if also a touch melancholy, to see them up close.
Image credit: NASA
Related posts:
- Where the Shuttles will come to rest
- Deconstructing Discovery
- The fiery descent of Atlantis... in 3D!
- Atlantis, one last time in the Sun

Make Your Inbox Important