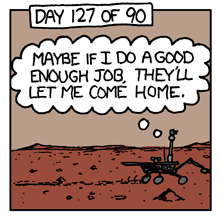 Today's xkcd comic takes a somewhat different stance on the plight of Spirit than I did.
Still, it's funny how we anthropomorphize objects, especially when they are vaguely human or animal looking. Especially if they're cute. And Spirit is very cute.
Who's a good rover? Hmmm? You are! You're a good rover!
Make Your Inbox Important