Syfy Insider Exclusive
Create a free profile to get unlimited access to exclusive videos, sweepstakes, and more!
Sign Up For Free to View
Cerro Paranal, in the high, dry, Atacama desert in Chile, is where some of the best astronomy in the world is done. It's graced with incredibly dark and steady skies, and a view of the southern hemisphere skies that, frankly, makes me jealous.
So it's hard to argue with the title of this short time lapse video, An Astronomer's Paradise:
This was taken by photographer Babak Tafreshi, who alerted me that he had put it online. Watch it to 1:30 in if only to watch Orion rise -- upside down, to my northern hemisphere bias! -- with colors and texture that are simply stunning.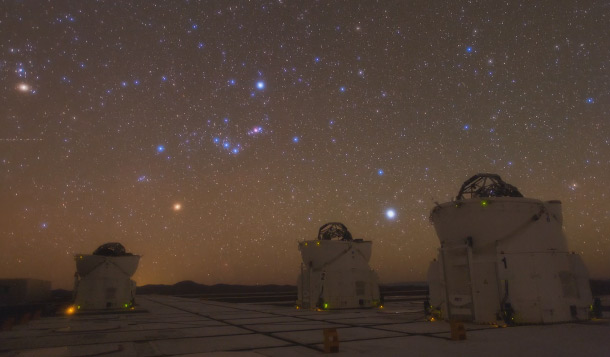 Isn't that awesome? And then a few seconds later, he shows a still image of the great Carina Nebula with the four domes of the Very Large Telescope Interferometer silhouetted against the sky. You can get a better look at that at The World At Night website, which has amazing shots of the sky.
I hope someday to make a trip to this part of the world. To see this for myself ...
Credit: Babak Tafreshi
Sponsored Stories
Recommended by Zergnet