Syfy Insider Exclusive
Create a free profile to get unlimited access to exclusive videos, sweepstakes, and more!
Sign Up For Free to View
Announcing BAFacts: a daily dose of sciencey fun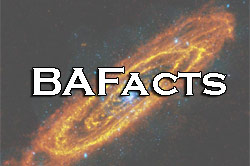 I'm happy to announce I'm rolling out a new feature: BAFacts, a short daily factoid about this strange and fun Universe we live in. Every day in the mid-afternoon GMT (in the morning for most of the US) I'll tweet something I find interesting, cool, or gee-whizlike. They'll all be about science, mostly space and astronomy, but really anything that catches my fancy is fair game.
Some will have links for more info (if the tweet itself is short enough to accommodate one). I'll also post them in my Google+ stream, and I'll include more info there when I can. I'll use the hashtag #BAFacts to make them easy to find. I have also created a BAFact archive where I'll list the previous BAFacts.
I started thinking about doing this months ago, and always found some reason to delay the launch. Maybe, I would think, it would be better to do it this way, or post it that way... but I decided that the best way to do something new in social media is to do it. Get it out there, and fiddle with it later if something comes up that can improve it.
So maybe I'll figure out how to add more links, or pictures, or math, or whatever. I'm happy to take suggestions. But for now, BAFacts launches today...
... and the first one is now live!
And just why am I starting BAFacts today? As I wrote earlier, today is perihelion, when the Earth is closest to the Sun in its orbit. It's something of a coincidence that it happens so close to New Year's (according to the standard Gregorian calendar most of the planet uses these days). It's funny: the first day of the year is pretty arbitrary when you think about it, but the point of perihelion is an actual, physical thing, not arbitrary at all. It would actually make a kind of sense to start our year on that day... except that the Earth's orbit isn't like a racetrack; it changes shape every year due to the influence of the other planets, so the precise time and day of perihelion changes by a day or so every year. Oh well.
Still, it's something of a milestone in our orbit, and since it's close to New Year's day it's an appropriate time to start something new. It was either today, or wait until the Vernal Equinox in March, and I didn't want to wait that long!
I hope y'all enjoy it, and get as much of a kick reading them as I do writing them.
Sponsored Stories
Recommended by Zergnet