Syfy Insider Exclusive
Create a free profile to get unlimited access to exclusive videos, sweepstakes, and more!
Sign Up For Free to View
Big Picture Science: Doomsday live show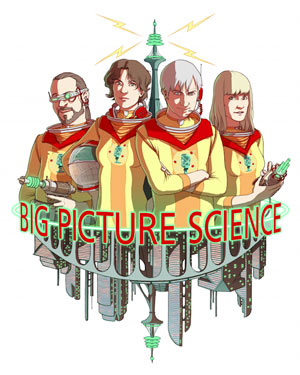 My friends at SETI's Big Picture Science podcast - what used to be called the Are We Alone radio show - want to put together a live show for the October 27 Bay Area Science Festival, a huge public gathering of folks where they can learn about science. They plan on holding a lively panel of astronomers, climate scientists, and other experts about the facts behind doomsday theories (such as they are).
But they need help to raise the funds to do this. They need $4000, so they started a Kickstarter fund to help. They're almost there - as I write this they're only $600 away, with a couple of days left to go - though of course with more funds they can do more.
This is being done by my good friends SETI astronomer Seth Shostak and science journalist Molly Bentley, and I support them. In fact, I've done many a segment of the Big Picture Science podcast: Seth and I do a roughly once per month interview called Brains on Vacation (see Related Posts below). So I know this show does good work, and the live show will be really fun, entertaining, and of course educational. In a good way!
Go check out their Kickstarter and beam them some cash if you can. Thanks!
Related Posts:
- Big Picture Science: Antivaxxers (and updates)
- Faster than light Brains on Vacation
- Beast of Skeptic Check
- Big Picture Science: climate change denial on Fox News

Sponsored Stories
Recommended by Zergnet