Syfy Insider Exclusive
Create a free profile to get unlimited access to exclusive videos, sweepstakes, and more!
Sign Up For Free to View
Caption contest RIGHT NOW

[Update #2: OK, no good deed goes unpunished. A bunch of comments got held up by my spam filter, and I see that actually, O'B was the first person to get this right. Since this was my mistake, he wins as well and I have notified him. I apologize for this folks. I don't know why so many comments got held up, but software does sometime take all the fun out of things. I'll note that I was willing to take "The Thinker's Rodan" OR "Rodan's The Thinker" since they both make the same joke. I figured whichever was first was OK, but it had to be phrased just that way.]
[Update: We have a winner! jaranath was the one to figure it out. My explanation is right below his comment, too.]
The first person to leave a comment with the exact caption I'm thinking of for this picture wins a signed copy of my book Death from the Skies! in Chinese. No, I'm not kidding.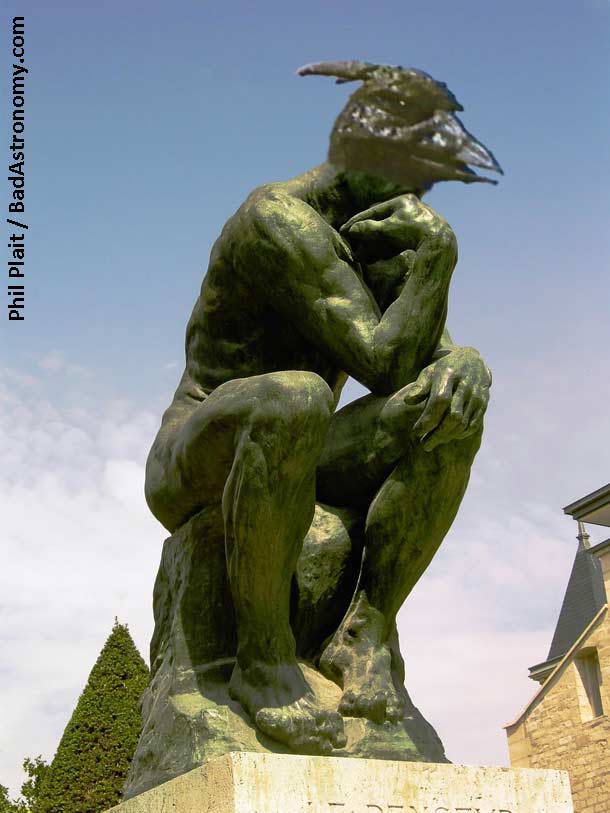 Just leave a comment with a valid email address and your caption below. I'll contact the winner and arrange shipping the book.
I'm also not kidding about it being exact. Results are final and totally up to me. Quibblers will get stomped.
Sponsored Stories
Recommended by Zergnet