Syfy Insider Exclusive
Create a free profile to get unlimited access to exclusive videos, sweepstakes, and more!
Sign Up For Free to View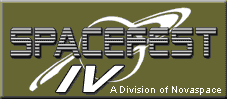 Like space? Like astronomy? Wanna meet some astronauts, astronomers, space artists, and hang out with like-minded space enthusiasts?
Then you want to come to Space Fest IV, a convention for people with their feet on the ground but their heads in the clouds.
SpaceFest IV will be from May 30 to June 2, 2012 in Tucson, Arizona. The speakers there are top-notch, including my friends Andy Chaikin, Dan Durda, Emily Lakdawalla, and Seth Shostak. Also in attendance will be a slew of astronauts, including quite a few who walked on the Moon! It's also a gathering of fantastic space artists, and the art on display is always pretty amazing.
I went to the first and second SpaceFests and had a great time, and that's why I'll be back at SpaceFest IV! I'm speaking at 09:00 Saturday morning, and generally hanging out and soaking up the awesome. Admission for all three days starts at $105, and there are lots of special packages.
I hope to see y'all there!
Related Posts:
- SpaceFest Report 1
- SpaceFest Report 2
- SpaceFest Report 3

Sponsored Stories
Recommended by Zergnet