Syfy Insider Exclusive
Create a free profile to get unlimited access to exclusive videos, sweepstakes, and more!
Sign Up For Free to View
I have creative friends.
Emily Lakdawalla is a scientist, science journalist, and tireless advocate for space exploration. She also does handcrafts, and recently asked me for my mailing address. Hmmm... I thought. This'll be good.
And I was right! Here's what she sent me: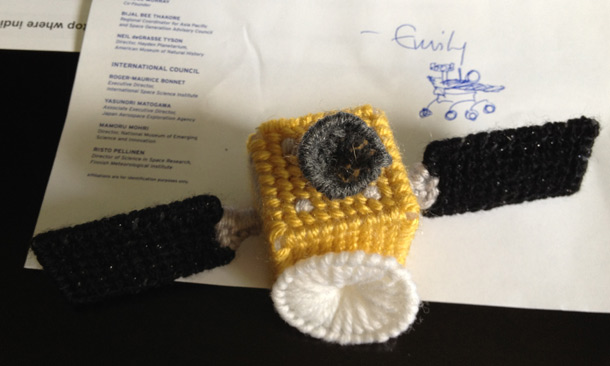 How cool is that? It's a satellite model made with plastic canvas. That's a plastic mesh you can cut to size, then stitch yarn in and out of the holes to cover it. I did a live video chat with Emily when Phobos-GRUNT re-entered, and she lamented my not having a good model of a satellite to use for demos. So she made me this one. And look how she signed the letter! I hope you recognize the little guy in her doodle.
I (and many others) suggested she make more spacecraft this way, and she has; she wrote a post at the Planetary Society Blog about them. She's also created both the patterns and kits for MESSENGER (currently orbiting Mercury) and Dawn (orbiting Vesta, soon to leave for Ceres) which you can buy at her Etsy store (called SpaceCraft, of course). She also has the pattern for the twin GRAIL spacecraft available for free.
I'll add that Emily scolded me that this is not crochet since you don't use a crochet hook. However, the title was too much fun to resist. By the time you read this I'll be at SpaceFestIV; Emily will be there too. I hope she'll forgive me.
But either way, I know have this awesome little model to use for the next time I do a live video chat. Thanks, Em!
Related Posts:
- Snapshots from space
- Rosettaâs stunning Mars
- What happened to Phobos-Grunt?
- Come to SpaceFestIV

Sponsored Stories
Recommended by Zergnet