Syfy Insider Exclusive
Create a free profile to get unlimited access to exclusive videos, sweepstakes, and more!
Sign Up For Free to View
Curiosity's looking a little blue

We have a fleet of spacecraft at Mars right now, including the amazing Mars Reconnaissance Orbiter and its equally amazing HiRISE camera, capable of taking very high-res pictures of the planet below.
The folks managing HiRISE just released a new picture of Mars showing the location of Curiosity, and it'll wow you for sure: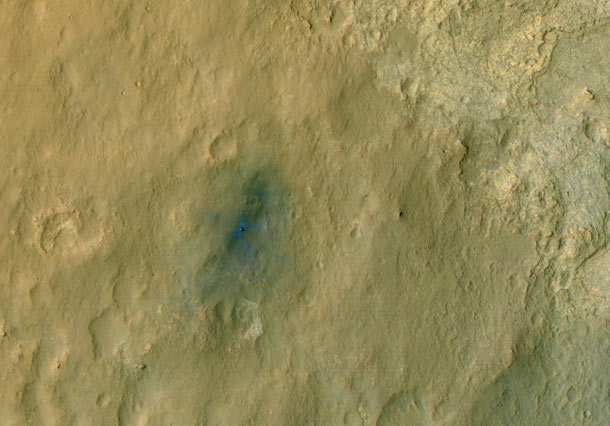 Wow!* [Click to enaresenate.]
The colors have been enhanced in this image - which actually makes things very interesting. As I've pointed out before, most of Mars is covered in basalt, a blue-gray rock. When you hear about sand on Mars, it's usually coarse-grained stuff made up of eroded basalt. However, there's also much finer-grained dust which is high in iron oxide - rust - and it's that which gives Mars its characteristic ruddy color.
That fine dust covers everything, making the planet red/orange/ochre. But there's wind on Mars, and it can blow the dust around, revealing the grayer basalt underneath (like the dust devils do). And if there's no natural wind, why, the thrusters from the rockets of a sky crane hovering over the surface as it lowers a one-ton rover to the ground will do just fine.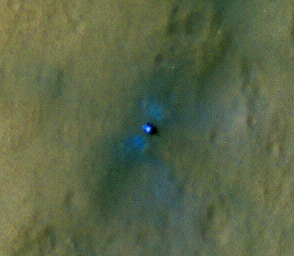 That part is actually pretty obvious in the picture. The thrusters blew around the dust, revealing the rock underneath, giving the landing site a bluer cast in the image (remember, it's color enhanced). In the first images from the rover you can see that as well, but not as clearly as here. In fact, in the high-res version you can see the streaks from the individual rockets under the sky crane immediately around the rover, which then fanned out to produce the larger region of disturbed dust.
And as an added bonus, the rover itself can be seen sitting pretty right in the middle!
Note that this is a small, small portion of a vastly huger picture from HiRISE showing an incredible slice of Mars. The colors and landscape in that (also enhanced) picture are jaw-dropping, and you should take a look.
Wanna see more? I created a gallery of my favorite images of and from Curiosity from its first week on Mars.
Image credit: NASA/JPL/University of Arizona
* See?
Related Posts:
- Gallery â Curiosityâs triumphant first week on Mars
- First color 360-degree panorama from Curiosity
- Dare Mighty Things
- Video of Curiosity saying bye bye to its heat shield

It's a fan thing
Join SYFY Insider to get access to exclusive videos and interviews, breaking news, sweepstakes, and more!
Sign Up for Free
You May Also Like
Recommended by Zergnet