Syfy Insider Exclusive
Create a free profile to get unlimited access to exclusive videos, sweepstakes, and more!
Sign Up For Free to View
Curiosity's self-portrait

I'm on travel in the UK right now - I'm filming a part for a documentary which I'll talk more about in a later post - but I want to make sure you get a chance to see this really quite fun self-portrait the Mars Curiosity rover took over the weekend: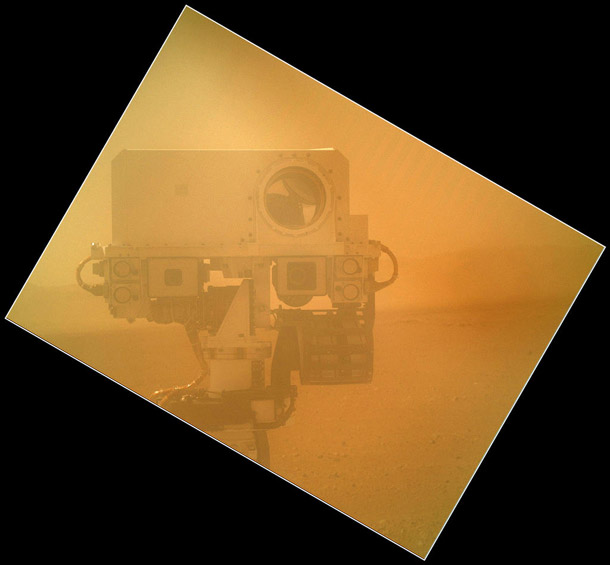 [Click to narcissusenate.]
I love how it almost looks like the rover is surprised to see itself.
The picture was taken by the Mars Hand Lens Imager (MAHLI), a camera mounted on the end of the robot arm. It's designed to look up close at specimens of rocks or whatever else the rover happens to see as it rolls across Mars. It has a transparent dust cover on it, which is why the image is a bit fuzzy. It's covered in Mars dust!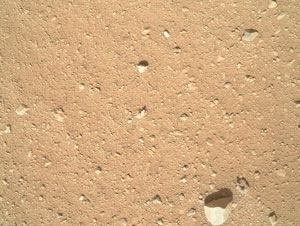 But engineers commanded the dust cover to flip open, and then it took this picture looking straight down (again, click to embiggen). Those may just look like rocks, but they're rocks on Mars! That alone makes them awesome. But in fact pictures like this will tell scientists back home volumes about the geology of Mars, and the history of its surface in this region.
Even just looking at how the rocks are laid out can be telling; water flowing over a rocky area redistributes rocks in certain patterns, and that can be seen right away in pictures. A lot of science can be gleaned just from a shot like this. But the rover can also drill into this surface, scoop up samples to test, or zap them with its laser to see what they're made of. All in all, this is the little rover that could... which is actually a big rover that does.
Image credit: NASA/JPL-Caltech/Malin Space Science Systems
Related Posts:
- Curiosity looks Sharp
- Curiosity rolls!
- Now you will feel the firepower of a fully armed and operational Mars rover
- Gallery â Curiosityâs triumphant first week on Mars

Sponsored Stories
Recommended by Zergnet