Syfy Insider Exclusive
Create a free profile to get unlimited access to exclusive videos, sweepstakes, and more!
Sign Up For Free to View
Five shots against global warming denialism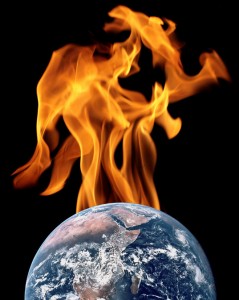 It's a truism that whenever I write about the solid fact that the Earth is warming up, that post will get comments that make it clear that denialists -- and please read that link before commenting on my use of the word -- are like religious zealots, writing the same tired long-debunked arguments that are usually debunked in the very post they're commenting on.
Still, we press on. The noise machine only wins if they can outshout reality, so it's important to keep writing about it. Here are five news items about climate change that might help mitigate the nonsense.
1) Last week, I posted the results from studies showing 2011 was the 9th hottest year on record. Forbes online has more information on this. They take a different tack on it, but get the same results I do: the Earth is warming up, and humans are why.
2) Some very welcome news: the National Center for Science Education -- who for years have been at the forefront of battling creationists getting their "curriculum" into schools -- is adding climate change to their syllabus. At that link they have well-written descriptions of the problem, how to teach about climate change, and how take action against denialism.
You can watch NCSE's Executive Director, the wonderful Genie Scott (full disclosure: she's a friend of mine) talk about climate change, and why it's so important that we tackle this issue politically.
3) One tactic of denialists like Virginia Attorney General Ken Cuccinelli and several Congressmen is to use witch hunts against climate scientists. By filing court orders to get access to emails, for example, they endlessly hound scientists. This serves their purposes quite well: it sets up a chilling effect, for one, making a hostile environment for the scientist; and it sets up doubt in the public's mind despite there being zero real evidence for it. Michael Mann has suffered this sort of thing many times, despite being cleared of all wrongdoing over and over again.
Now the tables are turned. Scientists have filed a Freedom of Information request to find out who is bankrolling the Global Warming Policy Foundation, a denialist "think tank" with "shadowy funders". In the US, there are groups like this aplenty, and in many cases their funding can be traced to oil companies, the Koch brothers, and so on.
The more people see who actually funds these denialist groups, the better. Once it became public that it was the tobacco industry pumping so many lies into the media about cigarettes the tide turned, and these global warming denialist groups are literally using the same tactics. And hey, the Heartland Institute, which bills itself as libertarian, also has ties to tobacco at the same time it funds New Zealand climate denial groups, too.
4) Apropos of that, some good news in the fight: the Climate Science Legal Defense Fund -- which helps raise money for beleagured scientists under attack by denialists -- has a new home: Public Employees for Environmental Responsibility (PEER). PEER will provide sponsorship and logistical support for the fund. Money raised goes to help defray the costs of legal fees for scientists who are the subjects of the above-mentioned witch hunts. The CSLDF also helps educate scientists about their rights, recruits lawyers to help out, and serves as an information database related to legal actions against scientists.
Wanna help? Donate to the fund here.
5) ... and apropos of that, it's nice to see scientists fighting back, too.
Related posts:
- 2011: The 9th hottest year on record
- Climategate 2: More ado about nothing. Again.
- New independent climate study confirms global warming is real
- Case closed: âClimategateâ was manufactured

Sponsored Stories
Recommended by Zergnet