Syfy Insider Exclusive
Create a free profile to get unlimited access to exclusive videos, sweepstakes, and more!
Sign Up For Free to View
Followup: More pink aurorae

I've been seeing more shots of the pink aurora from a couple of days ago, and they are all really pretty! I love pink; it's why I got a phone cover that color.
Photographer Mark Ellis captured the magnificent magenta magnetic maelstrom from northern Minnesota, and made a lovely time lapse video of it:
Here's a photo he took that is actually part of the time lapse: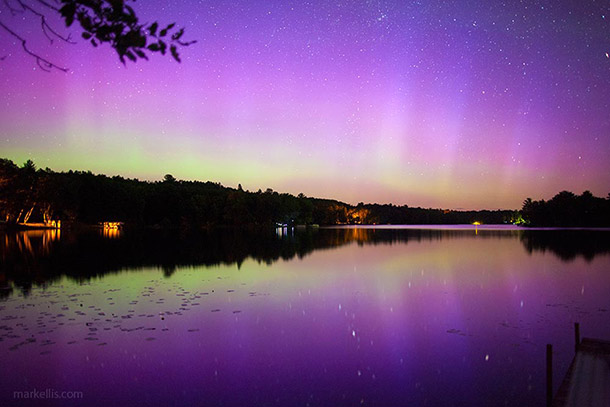 [Click to embiggen.]
Aurorae are formed when subatomic particles from the Sun slam into our atmosphere. Note the streamers; those are caused by the varying strength and direction of the Earth's magnetic field as it channels the particles down. As I describe in the earlier article, the colors are from different types of atoms and molecules in the air. Oxygen atoms glow red and green, sodium atoms yellow, and nitrogen molecules produce red and blue-violet. The nitrogen colors can blend and form pink or magenta, which is what we're seeing here. Mark got more green in his aurora than Brad Goldpaint did in his, but Brad was in Oregon, thousands of kilometers west of Mark, and so he was seeing different effects from the solar storm.
I suspect things will quiet down a bit now; the sunspot that unleashed this storm is being carried around to the other side of the Sun as our star rotates, and it'll soon disappear from view [UPDATE: SDO posted a video of the sunspot rotating out of view.] But as always, the Sun is feisty, and another may appear any day. SpaceWeather.com always has the latest info, so check there for updates and keep alert for more aurorae!
Image credit: Mark Ellis, used by permission
Related Posts:
- Aurora, in the pink
More photos and videos by Mark Ellis:
- Paradise, above and below
- Faith and begaurora
- Superb time lapse: "My Soul"

Sponsored Stories
Recommended by Zergnet