Syfy Insider Exclusive
Create a free profile to get unlimited access to exclusive videos, sweepstakes, and more!
Sign Up For Free to View
Galactic arch over the conjunction

I was going to stop posting pictures of last week's conjunction of Venus and Jupiter (see Related Posts below for more), but then photographer Brad Goldpaint went and sent me this ridiculously incredible shot: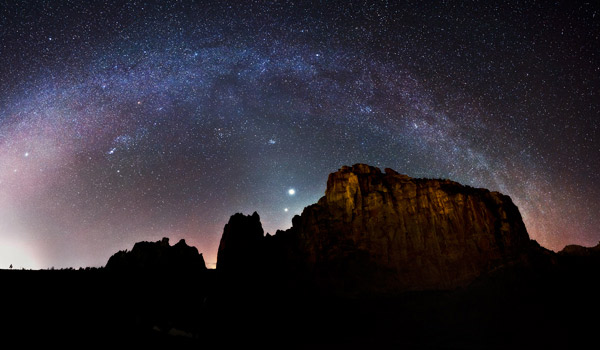 You absolutely must click to embiggen that; I had to shrink it to fit the blog here. Brad took this just a few days ago at Smith Rock State Park located in Terrebonne, Oregon. It's actually a mosaic of nine separate photographs, stitched together to show the grand scene. Venus and Jupiter are obvious enough (Venus is the brighter of the two, above Jupiter) but, as usual in Brad's pictures, the real scene-stealer is the Milky Way. Usually, the Milky Way is a stream across the sky, but in this mosaic appears curved (that happens when you try to map large straight objects that take up a lot of sky into a rectangular picture frame).
You might see some familiar things if you look closely: on the left is Orion, tilted a bit, and all the way to the left is bright Sirius. Just above the planets are the Pleiades, and the head of Taurus to the left of that. Just to the right of the top of the Milky Way is bright yellow Capella, and farther down to the right the W of Cassiopeia.
What else do you see?
Related Posts:
- Paradise, above and below (another stunning Venus/Jupiter pic)
- Pic of pairs of planets and people
- Jupiter and Venus still blaze in the west
- The skies reflect our spinning world (a gorgeous time lapse video by Brad Goldpaint)
- Well, at least light pollution makes for a pretty time lapse

Sponsored Stories
Recommended by Zergnet