Syfy Insider Exclusive
Create a free profile to get unlimited access to exclusive videos, sweepstakes, and more!
Sign Up For Free to View
Get Scott Sigler's The MVP for $3 off
Wanna get Scott Sigler's brand-spankin'-new novel The MVP for three bucks off? Read on ...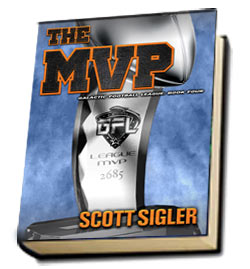 Scott is a pal of mine, but he's also a few other things ... like a NYT best-selling author, for example. His science-based horror books like Infected, Contagious, and Ancestor are really fun (and ookie) reads. He's been writing a really good science fiction sports series of novels about the Galactic Football League, where humans play football side by side with aliens ... who may be able to leap five meters in the air, run far faster than humans, and oh yeah: also might possibly want to eat the other team.
His new book in the series, The MVP, is available for pre-order starting right now! And because I am super special and wonderful and love my readers, if you pre-order the book with the coupon code badastro you get $3 off the price!
Just go to his site, order the book, and put badastro into the coupon code field to get the discount. This code also works on his other hardcovers in the GFL series, including The Starter and The All-Pro (the first novel in the series, The Rookie, is sold out in hardcover, but you can still get it as an ebook or an audiobook -- when the hardcovers are gone, they're gone).
But why trust me? You can listen to Sigler himself barking at you about this:
[embed width="610"]http://www.youtube.com/watch?&v=xXFtrTdDLyI[/embed]
Full disclosure: I get a kickback from this, but I'd tell you to buy his books anyway. Why? For one thing, they're lots of fun. For another, Scott is an independent author, who sells these books on his own, without a publisher, and I'm all for that. It's no exaggeration to say that he helped invent online publishing; he couldn't find a publisher for his first book, Earthcore, so he audiocast the whole thing and gave it away for free. This was back when the word "podcast" was brand new, and Scott was way, way ahead of the curve. He turned that idea into a revolution of online publishing, loosening the stranglehold of publishing houses on books, and I honestly think we're better off for it.
So if you buy his books you are supporting a talented writer, an indie publisher, a revolutionary, and I can afford to keep myself in Tootsie Rolls for the rest of the year.
Sponsored Stories
Recommended by Zergnet