Syfy Insider Exclusive
Create a free profile to get unlimited access to exclusive videos, sweepstakes, and more!
Sign Up For Free to View
Give Pluto your stamp of approval

In 2015, NASA's New Horizons spacecraft will zip past Pluto, giving us our first close-up view of this tiny world.
The team behind the space probe have a nice idea to help raise awareness of it: make a new US Post Office stamp commemorating it. My friend Dan Durda, both an accomplished astronomer and artist, created this lovely design of the stamp: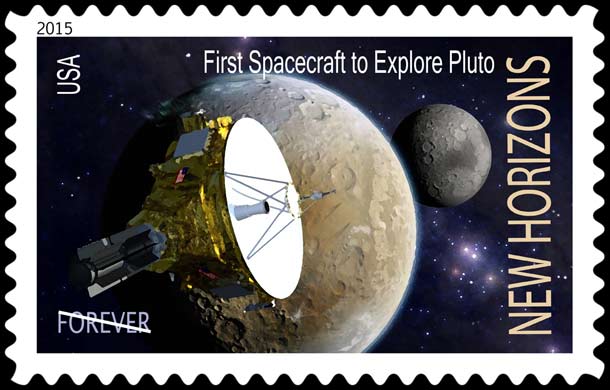 [Click to enhadesenate. Note: the word "Forever" means the stamp is always good for first class postage, and is crossed out here to prevent forgery.]
It shows the spacecraft going by Pluto and its (relatively) freakishly large moon Charon. I like how he didn't go for photorealism, but instead used an oil paint-like feel for it. The stamp is meant as a followup -- I might even say send-up -- of a US stamp issued in 1990 about Pluto that has the label "Not Yet Explored".
I like this stamp! I'd love to see it made official, too. Alan Stern, the head guy for the mission, created a petition to help that along. It takes more than just a nice stamp design to get the PO's notice; it has to have public support as well. I signed the petition, and if you want to, please do.
I'll note that I expect this to raise the specter of whether Pluto is a planet or not. I have some thoughts on that, and I'll be posting again soon on that topic.
Related posts:
- Pluto has another moon!
- Find cold, distant worlds with Ice Hunters
- Pluto still may be the biggest dwarf planet
- Percy, Percy, me

Sponsored Stories
Recommended by Zergnet